The previous blog described the inner working of Windows 8.1 smart search, its privacy, and security risks. This blog will look at the ways to block Microsoft tracking the end user's activities.
The Windows 8.1 preview version does not have an "uninstall" option for the smart search and as such, disabling smart search based tracking requires system and firewall policy modifications.
The easiest way to block Microsoft tracking of the end user is simply not using the smart search, or "Search Charm". Other searches in the preview version, Windows Explorer, browsers, applications, etc., are not integrated with Bing searches. They might as well be in the final, but not in the preview version.
If that's not an option, here are some of the ways that can help prevent the smart search dishing out advertisements to the unsuspected end user.
As stated in the previous blog, the "Search & Apps" options can be changed not to receive Bing search results within the smart search; in which case the web search results are not displayed, but the tracking data is transferred to Redmond
Turn off "Windows Location Provider" and "Windows Search", accessible through the "Control Panel\Add/Remove Programs and Features\Turn Windows features on or off". This also stops the web search results to be displayed, but tracking data is still transferred to Microsoft
Block access to the destination server via the firewall policy, by DNS name and/or IP address, at the Internet gateway.
Turning off Windows features requires local administrator access and rebooting the system for the changes to take effect. The actual changes are simply removing a check-mark as shown below: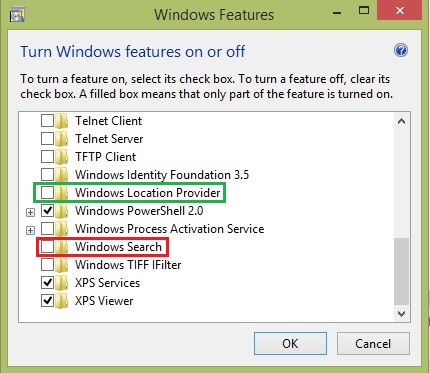 The colors indicate the impact of disabling the feature to the system. For desktops, the "Windows Location Provider" (simply tracking the location of the computer) can be safely removed. Removing "Windows Search" feature will have a performance impact and locating files on the local system will take longer. As such proceed with caution.
When the two Windows features are disabled, the local search still works through the smart search; however, the web search throws an error message:
The firewall policy can block access to Redmond's destination server, that does stop Microsoft tracking end users' activities. The policy is rather simple, such as "source address=any", "protocol=any", "destination=Redmond destination DNS/IP". The local system search results are displayed, tracking data not transferred to Microsoft, and the Web search displaying an error message: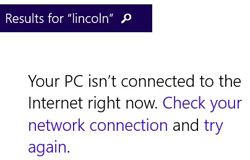 And that's quite alright… If I want to be bombarded with advertisements, I'll use a browser…